Cahal Dallat: Poet, Musician and Critic
CL Dallat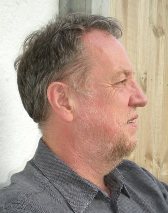 London-based poet, critic & musician (b. Ballycastle, Co. Antrim),
studied Statistics & Operational Research at Queen's University Belfast;
is married to poet, Anne-Marie Fyfe — they have two children;
has worked in television, publishing, public utilities, construction & information technology & taught systems analysts in India;
plays several instruments including bandoneon, musette-accordion, traditional flute, mando-fiddle, balalaika, piano, clarinet & soprano-sax;
writes on Irish fiction & drama for a range of literary journals including the Times Literary Supplement & the Guardian;
has been a regular panellist on

BBC

Radio 4's weekly arts magazine, Saturday Review, since 1998;
teaches creative-writing 'masterclasses' and poetry seminars
is the organiser of — and inspiration behind — the W.B. Yeats Bedford Park Project to create a public artwork in West London's 19c garden-suburb/artists'-colony where Nobel-prizewinning poet and dramatist W.B. Yeats spent his early years.
His poetry appears in a range of literary magazines & anthologies, in Trio 7 (with John Kelly & Sean McWilliams, Blackstaff Press, 1992), Morning Star (Lagan Press, 1998) and in The Year of Not Dancing (Blackstaff Press, 2009)
Buy The Year of Not Dancing (publ. £12.99) plus free copy of Morning Star (publ. £4.95) inc. p&p for special web price of £12 via PayPal on poetry page.
Recent Coverage/Articles
The Year of Not Dancing reviewed by
From the Archives
Poetry Couples in Magma 40
Diary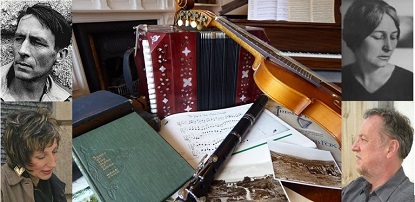 Sat 30 Apr, 11 am, Cushendun Big Arts Festival Carmel to Cushendun: Anne-Marie Fyfe & CL Dallat explore (in poetry, music & talk) Robinson & Una Jeffers' 1920s Cushendun visit, Una's love of Irish music, the Glens' influence on Robinson's poetry, & his legacy to the poetry of John Hewitt, John Montague & Seamus Heaney: a John Hewitt Society event, Mary McBrides, 2 Main Street Cushendun BT44 0PH
Mon 9 May-Mon 20 Jun: Coffee-House Poetry, Summer-2016 fortnightly programme of readings, alternate Mondays, 8-10pm, hosted by Anne-Marie Fyfe with music by CL Dallat, Coffee-House Poetry at the Troubadour Earls Court London
Sat 14 May—Sat 28 May, Heinrich Böll Cottage, Writer's Residency Achill Island Co. Mayo
Mon 6 Jun, 8pm: The End of the Page?: a Coffee-House Colloquy, with Hannah Lowe, Gregory Leadbetter, Richard Price, Carrie Etter & C.L. Dallat for Coffee-House Poetry at the Troubadour Earls Court London
Sun 19 Jun, 2.30-5 pm: Land of Heart's Desire: a W.B. Yeats walk …with CL Dallat, from Ravenscourt Park Tube Station Hammersmith London
Mon 20 Jun, 8 pm: The Hidden Life of Cities: An end-of-season poetry party with invited guest readers, plus music & prize quiz by CL Dallat for Coffee-House Poetry at the Troubadour Earls Court London
Thu 23 Jun, 7.30 for 8 pm, Bedford Park Festival Poetry Evening with special guest, Rowan Williams, plus poems, music, refreshments, hosted by local poets Anne-Marie Fyfe & C.L. Dallat at St. Michael & All Angels Hall, opp. Turnham Green tube station, Bath Road Chiswick London W4 1TX
Mon 25 Jul—Fri 29 Jul 2016, John Hewitt International Summer School 2016 …a week of readings, talks, lectures, discussions, creative writing, drama, music, details t.b.a. at Marketplace Theatre Armagh City
Sat 13—Sat 20 Aug, Poetry Course (residential) with Anne-Marie Fyfe & co-tutor CL Dallat at Château L'Age Baston Angoulême Charente
Sat 20—Sat 27 Aug, Poetry Course (residential) with Anne-Marie Fyfe & co-tutor CL Dallat at Château L'Age Baston Angoulême Charente
Love on a Rock
Who could tell them now – out in the world,
its plethorae of arc-lights, halogens, discos —
those lighthouse children with listening eyes,
now the last tin cup, plate and fork
are stowed in the last canvas bag under
a fo'c'sle and rowed with their owner
to the supply port, gold watch and severance.
But you'd know them then in utility brown-
and-cream rooms, wiser in their generations
than world-children; at jonquil Formica tables,
sucked HB stubs at poise to take down
wireless PO boxes, or describe collections
and hobbies to comics; devouring a quarter's worth —
in a morning — of Dandys and Beanos and Judys
since the weather last faired; or dwelling
on all missing lightkeeping men …
know them playing ecksy-oseys in winter,
hopscotching the one slab of cement
between storm door and fairweather jetty:
and know by their manners when bible-people
came with flasks in baskets and Old-Testament
crayoning books, or hikers with tripods
to put the rock in their textbooks and maps.
You might see them still, if you're careful
on city-hall or tower-block stairways, left
foot tiptoed on an absent stiletto from years
navigating anti-clockwise tight spiral stairs:
or find them when everyone's gone,
rocking against the emulsioned wall
in the dark of a seventh-floor office
and the sound that you hear isn't them
but the thinness of baby-seals' weeping
or the contralto with auburn-grey wisps
chanting the bright stormy sea as she folds
the cold grey sheet down and Trinity-
House-issue blankets, tells them never
to fret. Or their lilting along to the small-
gansied man with pipe-grime under
his left index-nail rippling a hornpipe's
slow triplets on a Breton concertina.
And you'll know them in truth for children
of the rocks, for they'll have preset
the Xerox's counter right up to the thousand,
lid-up and nothing on the glass, eyelids
numb on the margin of sleep as the phasings
of light take them home to the beam-room again.
Winner, Strokestown International Poetry Competition, 2006
Listen to Love on a Rock and other poems on Poetcasting